The Twins are coming off the most disastrous season in franchise history, a season that was so bad and so frustrating that they managed to wipe out much of the good will they created with the opening of Target Field far sooner than anyone could've imagined.

Injuries were obviously a factor. You're not going to win when your two best players miss a combined 173 games. That would be Joe Mauer and Justin Morneau, but it wasn't just them — Jason Kubel missed 63 games. Michael Cuddyer missed 23. Denard Span missed 92. Jim Thome, Scott Baker, Francisco Liriano, Joe Nathan and Nick Blackburn missed significant time as well.

It's not hard to blame the Twins for wanting to believe that merely getting their best players back on the field will lead them back into contention. After all, while the Twins are one year removed from a 99-loss season, they're only two years removed from a 94-win season.

But the front office played a big role in the team's regression last year, too, most notably by making the unforgivable decision to replace Orlando Hudson and JJ Hardy with Alexi Casilla and Tsuyoshi Nishioka and assuming they could build a competent bullpen essentially from scratch. Both of those decisions were extremely arrogant, and I'd be lying if I didn't admit that I took some twisted pleasure in seeing them humbled by their foolishness.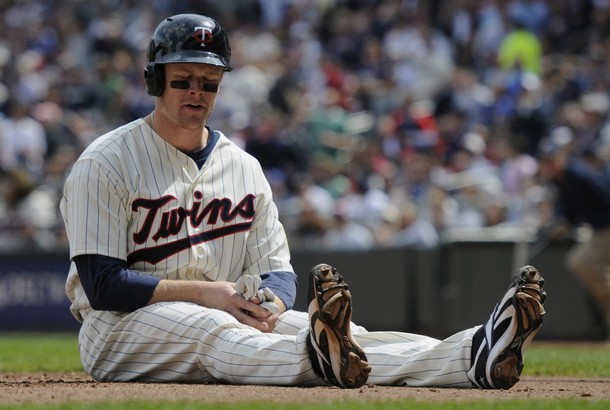 GM Bill Smith lost his job, of course, and that move, and Terry Ryan's aggressiveness since retaking the position, suggest a level of accountability within the organization that was sorely needed.

And I like a lot of what the Twins did. Ryan Doumit essentially replaces Jason Kubel, and while Kubel is a slightly better hitter, Doumit can double as the backup catcher, meaning we'll hopefully never see Drew Butera and his 24 OPS+ ever again.
Josh Willingham replaces Michael Cuddyer, and not only is he probably a slightly better offensive player, the Twins gained a draft pick by letting Cuddyer walk.

Jamey Carroll is certainly not an All-Star at shortstop, but he should be able to post a strong on-base percentage and make the routine plays that Nishioka and Trevor Plouffe could not.

Projected Lineup
CF Denard Span
SS Jamey Carroll
C  Joe Mauer
DH Justin Morneau
LF Josh Willingham
RF Ryan Doumit
3B Danny Valencia
1B Chris Parmelee
2B Alexi Casilla

Bench
Ben Revere
Trevor Plouffe
Sean Burroughs
Luke Hughes

Starting Rotation
RH Carl Pavano
LH Francisco Liriano
RH Nick Blackburn
Scott Baker (Liam Hendriks)
RH Jason Marquis

Bullpen
RH Anthony Swarzak
LH Brian Duensing
RH Jared Burton
LH Matt Maloney
RH Jeff Gray
LH Glen Perkins
RH Alex Burnett
Closer: Matt Capps
The Twins had a good spring training, winning their share of games, but by far the best news to come from the exhibition season was Justin Morneau showing signs of becoming his old self. Most of us had pretty much written him off, and when he was batting barely over .100 through the first few weeks, it didn't look good. Then all the sudden he started hitting like he did before the concussion. It would be foolish to assume he's back to the MVP-caliber hitter of a couple years ago, but I'm far more optimistic about him than I have been for over a year. The Twins are going to keep him primarily at DH to protect his health, and I wouldn't be surprised if he went back to being a .300 hitter with 20-homer power.
Combine that with the fact that Mauer looks healthy and motivated, and the Twins could potentially be getting two All-Stars back this year. While I'm cautiously optimistic about Morneau, I'm fully confident in Mauer. I'm expecting a big season from him.
Span also appears to be recovered from his own concussion issues. If these three are healthy and productive the Twins are a totally different team.

Chris Parmelee could maybe use some more seasoning in the minors (he's never played in Triple-A), I like the idea of putting him in the lineup, with Doumit and Plouffe platooning in right. I like Ben Revere, but he has not yet proven he can be an everyday player, and I'm not sure he ever will. Using him as a fourth outfielder plays to his strengths.
Willingham's pull power from the right side should play well in Target Field. He's more of a pure power hitter than Cuddyer was, and will be a nice complement to Mauer/Morneau.

Valencia was fairly unlucky last year. If Gardy gets off his back he could have a nice season. I don't like Casilla any more than you do, but he's not horrible, and if he fails again, Brian Dozier is ready to step in.
When Mauer doesn't catch, Doumit does. Last year when everyone was hurt there were games where the Twins had up to six guys in the lineup that were essentially automatic outs. This year if everyone's healthy that won't be the case.

But the lineup isn't the problem. A rotation that had been solidly above average for a few years took a step backward last year. It's hard to view it as better than mediocre at this point. And the bullpen could very easily be as bad as it was last year (league-worst 4.51 ERA).

If a lot goes right, Baker, Liriano and Pavano actually make a very good, very underrated 1-2-3. Baker pitched like an ace when healthy last year (3.14 ERA, 8.4 K/9, 3.8-1 K/BB), and Liriano pitched like an ace this spring. But betting on Baker (who opens the year on the DL and is a traditionally slow starter anyway) to stay healthy or Liriano to be consistent is risky to say the least.
Nick Blackburn has also had a nice spring, but his best days might be behind him, and his best days weren't that great to begin with. If he works 200 innings with an ERA of 4.20ish I'll be thrilled.
I have pretty low expectations for Jason Marquis, but sometimes journeymen like that put together a decent year. Liam Hendriks has had a great spring, and will begin the year in the rotation. If he pitches well he'll get to stay.

All that said, the rotation is a strength compared to the bullpen.
There's only one relatively reliable pitcher in the 'pen in lefty Glen Perkins, though I'm pretty confident Brian Duensing will benefit from the move to relief, assuming Gardy is able to shield him from righties somewhat.


As for Capps, well, he makes me nervous to say the least. It's easy to forget, but Capps was very good early last year when he was the setup man. For the season, he had a 0.84 ERA in the 7th inning, 3.98 in the 8th, 5.13 ERA in the 9th. He had a stretch in July where he was so bad that it was hard to watch him, and I remember being angry that Gardy kept sending him out there when he clearly had nothing.
The Twins said Capps was pitching hurt, and brought him back in part because of how impressed they were with how he didn't make excuses, faced the music when he screwed up, and kept taking the ball even when his confidence was obviously not there.
Those are all fine qualities in a man, but it doesn't mean Capps is going to be a reliable closer this year. The Twins seemed to be betting that if healthy he'd return to form, but he's been serving up gopher balls regularly in spring training. If Capps can nail down 80 percent of his save chances (not a real high threshold) I'll take it.

After that you have Swarzak — who had a decent year last year but does not have impressive stuff — Alex Burnett, who is terrible and only made the team because Kyle Waldrop got hurt, as returners.
Hopefully Waldrop gets healthy soon, because I think he has a chance to be solid. The rest of the pen is made of newcomers. Not shrewd free-agent signings, but journeymen plucked off the scrap heap.
Jared Burton and Matt Maloney both had very good exhibition seasons. Read into that what you wish. Jeff Gray doesn't do anything for me.
The Twins are basically just hoping they get lucky here. To be fair to them, relievers are kind of a crap shoot. Sometimes seemingly dominant relievers turn terrible overnight, while seemingly washed up guys bounce back and have a great year. But again, I'm not optimistic.
Jeff Manship, Anthony Slama, Phil Dumatrait and Scott Diamond are the reinforcements in Triple-A. Slama is the only one of those guys I really like, but the Twins seem to have given up on him.

Best case scenario: Mauer and Morneau are back to their MVP-candidate form. Span is a weapon at the top of the order, and Willingham, Doumit, Parmelee and Valencia help make this a lineup that rivals Detroit's, while Carroll solidifies the infield defense. The rotation stays healthy, and Baker-Liriano-Pavano are a strong 1-2-3. Capps is decent and at least two other guys join Perkins and Duensing as capable relievers. The Twins are in the running for a wild card and their win total reaches the mid-to-upper 80s.

Worst case scenario: Mauer and Morneau once again spend half the season (or more) on the DL. Span struggles, Carroll can't handle an everyday role and Casilla, Valencia and Parmelee all bomb.
Baker can't stay healthy, Pavano breaks down, Liriano is unreliable, Blackburn is terrible and the bullpen is every bit the disaster it was last year. The Twins are sellers at the deadline and lose over 90 games for the second year in a row.

Bottom line: The Twins do have a high upside if everything goes right, but way too much has to go right. This should be a transitional season. The Twins need to find out how close (or far away) they are, and unless they're somehow well over .500, they should look to do some selling at the trade deadline. If they play their cards right, they could be back in the race in 2013. But this year shooting for .500 seems like a more realistic goal.

Prediction: 78-84, 3rd place